Action Cycle
How do we want students to act?
In the PYP, it is believed that education must extend beyond the intellectual learning to include not only socially responsible attitudes but also thoughtful and appropriate action.
What does Action look like?
Action from someone involved in the PYP can be as simple as a student wanting to share with someone what they are learning about or even wanting to go to the library to continue their learning of a particular topic. Or, it can be an action like writing to their congressman or corporate CEO about an issue that was raised during a unit on sharing the planet.

Action in the PYP can also be deciding not to act, for example if during a unit on health a student realizes that a can of Coke with dinner is not the best choice and they opt for milk instead.
The Action Cycle of the Primary Years Programme :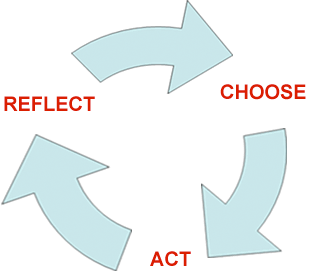 The action cycle is the simple yet powerful tool used to teach children how to take action. By going through the three steps of choosing, acting and then reflecting back upon the results of their choice, students are able to grow socially and personally, developing skills such as cooperation, problem solving, conflict resolution and critical thinking. This is an important part of a student's participation in his or her own learning.

The action cycle helps develop life long learners.